What are the best quiet or silent keyboards in [year]? After very long research, here are the results: The Razer Huntsman Elite is the best silent gaming keyboard.
If you don't want to spend a lot of money on a gaming keyboard then go for SteelSeries Apex M750. It's suited for both competitive gaming and writing for long hours. Alternatively, if you're on a very tight budget and looking for a cheap and quiet gaming keyboard, go for Redragon K502. 
If you're not a gamer and looking for a silent keyboard for office and home use, the best one is Logitech K800 Illuminated Keyboard. However, if you need something more affordable, go for Arteck or Fenifox silent wireless keyboard. 
Best Quiet Keyboards Reviews [year]
Let's have a look at the quietest keyboards that offer great value for the money.
1.
Razer Huntsman Elite (Linear Optical Switch) 
Best Silent Gaming Keyboard in Town (Wired)
If you're in for a top-of-the-line gaming keyboard that makes minimum noise then Razer Huntsman Elite (LOS) is the right option for you.
Razer is setting the bar really high with this amazing gaming keyboard which is really giving its competitors a run for their money. 
The RGB-lit features optical switches that are extremely fast and I'm pretty sure that most of you haven't experienced something like this before.
Customizable RGB lighting effects, On-board memory profiles, and a top of the class wrist rest, Razer Huntsman Elite is the complete package.
Razer Huntsman Elite is featured with all kinds of the latest tech and shows some exceptional performance but it is also one of the expensive keyboards in the market.
Razer Huntsman Elite is a beautifully engineered quiet gaming keyboard and the premium build quality offers durability for years.
Back-lit RGB lighting effects in four zones with more than 30 different combinations is a treat for eyes while the Macro keys offer a lot of flexibility to the user. 
Razer Huntsman Elite (LOS)  is one of the quietest gaming keyboards that you can find. This keyboard is not advertised as a silent keyboard but upon testing, we've found this keyboard to be one of the quietest gaming keyboards. 
With this silent keyboard, you can play for hours without getting tired because the wriest rest will keep you comfortable for a long time.
Pros 
Ultra quiet

Comfy wriest rest

Optical key switches

4 RGB-lit zones

Professional design and unbreakable build quality
Cons
Quite expensive

Only 2-years warranty
2. SteelSeries Apex M750
Best value for Money Keyboard for Gaming and Home Use (Wired)
The SteelSeries Apex M750 is an exceptional wired gaming keyboard that is very well built and shows extraordinary performance.
Apex M750 is a very quiet gaming keyboard that offers you to change the pre-travel distances for different scenarios.
For competitive gaming, you can set the pre-distance to the minimum and when typing, you can increase it to avoid any accidental mistakes. 
SteelSeries Apex M750 is a very futuristic looking keyboard and the backlit RGB lights add to the beauty of this silent keyboard.
The exterior is made from an aluminum alloy that feels very solid and won't be falling out for years.
The keycaps feel like they're made from very high-quality products but unfortunately, you won't be getting a wrist rest with this linear switch version of Apex M750.
The full-sized minimalist looking silent keyboard will really come in handy at nights because those RGB-lit keys are a delight to have.
Most of the gaming keyboards are very noisy and can be really annoying especially at night time but with Apex M750 and its silent mechanical keys, you won't have a deal with that unwanted sound.
Apex M750 is a wired keyboard that makes it ideal for gaming. With most wireless gaming keyboards, you will have to deal with input lag but with a wired keyboard, there isn't any input latency. 
Lastly, Apex M750 is an excellent gaming keyboard that offers amazing performance and accuracy. This quiet keyboard is ideal for competitive gaming but you can also use this one to write long-form essays and articles. 
Pros 
Responsive and accurate

RGB lighting effect

Silent keystrokes

Extra features
Cons
3. Logitech K800 Illuminated Keyboard (Wireless)
Best Silent Keyboard for Home & Office
Logitech K800 also happens to be the keyboard I have been using since quite some time.
It's one of the most affordable, yet feature-packed wireless keyboards.
Although it is not 'labeled' as a silent keyboard, it's quieter than most keyboards out there.
Plus you also get features like hand proximity detection (backlight turns on automatically when your fingers are near the keyboard), thin profile, laser-etched backlit keys and a comfortable typing experience (thanks to the PerfectStroke key system).
It uses a Logitech Unifying receiver, which allows you to connect other Logitech devices (up to 6) using a single USB port.
Add a Silent Plus mouse to the equation and you get a quieter and more comfortable typing and clicking experience.
However, these wireless devices are targeted at general consumers and not meant for gaming purposes or stuff that requires precision and low latency.
PS: The keys are perfectly visible even when the backlit illumination level is set to minimum. Setting illumination to higher levels wastes a lot of battery juice and is not recommended unless you absolutely need to do so.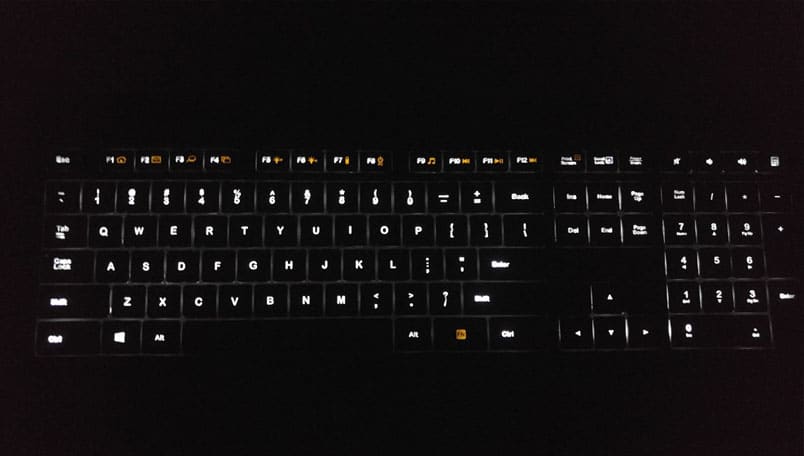 Pros
PerfectStroke Key System

Laser-etched backlit keys

Unified USB receiver, allows connecting up to 6 compatible Logitech devices

Fast recharging, decent battery timing

Plug-and-forget setup (need to pair devices only once)

Dedicated keys for calculator, mute and volume adjustment

Function keys (customizable)
Cons
Not suitable for hardcore gamers
Read more reviews on Amazon
4. Arteck 2.4G Wireless Keyboard 
Second Best Silent Keyboard for Office and Home
Arteck wireless keyboard is one of the best quiet keyboards for office use.
The Arteck wireless is a very modernistic looking keyboard with ergonomic design and comfortable typing experience.
The full-size stainless matte-black exterior and premium quality keycaps provide a very professional look to the whole setup.
This wireless quiet keyboard is very suitable for office use and home use but due to its full-size, I don't think that this keyboard will be a decent travel companion.
There's just one downside of this keyboard, there are no RGB lights around the keyboard or backlit-LEDs.
The biggest perk of the Arteck wireless keyboard is that it can be recharged. You don't have to have spare AA-batteries with you all the time because you won't need them with this one.
Most of the wireless keyboards run on AA batteries but this Arteck wireless keyboard is definitely an exception. 
Overall, Arteck wireless keyboard is a top rated quiet keyboard that offers consistent performance and the build quality is quite impressive.
The keycaps won't be falling anytime soon and the shortcut keys are definitely a good touch to the overall presentation of the keyboard.
Arteck wireless keyboard comes with a very reasonable price-tag and this keyboard is a dream come true for content writers and typists.
Due to proper spacing between the keys, you won't be making any accidental clicks. 
Pros  
Rechargeable

Minimalist design

Ergonomic shape

Everlasting battery life (6 months)

2-years warranty
Cons 
5. Fenifox Wireless Keyboard
Budget Silent Keyboard for Home and Office Use (Wireless, Rechargeable Battery)
Finding a quiet keyboard can be quite difficult to buy but keyboards like Fenifox wireless keyboard makes things easier for us.
Fenifox wireless keyboard is one of the quietest keyboards that you'll find out there.
The design of this keyboard is very modern and stylish and you'll definitely get Macbook vibes.
The build quality of the keyboard is not the best but it will do the job.
The silver exterior looks very impressive and professional and it will last for a long time.
The Fenifox wireless keyboard is very thin as well and weighs around 635g (22oz) which makes this silent keyboard ideal for travel, home, and office use.
If you're out there looking for a decent quiet keyboard then this one is definitely a good choice but is it ideal for gaming as well? Not really.
If you're a gamer go for one of the quiet gaming keyboards we have listed in this article.
There aren't RGB or backlit LEDs installed in the keyboard but for this price, you're getting yourself a pretty good deal.
The performance and accuracy of the keyboard are good and there's hardly any input lag because you'll be getting a 2.4Ghz wireless connectivity. 
The spacing between the keys is just right but if you're used to ThinkPad keyboards then it might take a minute to get going with this one.
There aren't many macro or multimedia keys on the keyboard.
An awesome bonus with this one is that you'll also be getting a silent mouse as well. The wireless mouse will offer up to 1600DPI and run on 2x AA batteries.
Similarly, Fenifox wireless keyboard will run on 2x AA batteries and will last for a very long time. If you're not using your keyboard then the power saving mode will kick in to save battery. 
Pros
Very Cheap

Durable 

Whisper-quiet keys

Stylish and modern design

Free mouse included 
Cons 
6. Redragon K5002 RGB Gaming Keyboard
Most Quiet Budget Keyboard
For a great keyboard that types quietly and provides you with great user experience on a budget, the best choice for you is the Redragon K5002 RGB Gaming Keyboard.
It comes with Chiclet keys that are meant to last long and be responsive.
You type with less resistance from the keys, letting you do more with less stress and still receive the tactile feedback each time.
You have 6 lighting modes to choose from according to your predilection. They are 4 backlight levels, and you can turn off the illumination if you so, please.
The keycaps are laser engraved so that you will get clear and uniform backlighting, all to ensure that you get the very best out of your keyboard.
The feel of the keys and keystroke accuracy ensures that you can type with few chances of making errors. It is an absolute office tool that makes work easier.
You do not have to lose your keyboard anymore because of little splashes of liquid as the Redragon can withstand average liquid spills.
The wrist rest allows you to type and game for hours without feeling discomfort or fatigue.
Pros
Quiet typing

Durable keyboard
6 backlighting modes and adjustable brightness feature
Cons
The keyboard layout may need some time to get used to 
Read more reviews on Amazon
7. Razer Blackwidow TE Chroma V2 Mechanical Gaming Keyboard
Also Great for Gaming
Top on the list of best quiet and silent keyboards is the Razer Blackwidow.
This keyboard has completely revolutionized the gaming experience with all its mouthwatering specs and features.
You get unmatched speed and accuracy due to its zero compromise mechanical switch. The tactile feedback you get is with a quitter click, so you do not have to make so much noise while gaming and typing.
It only requires 45 g actuation force, and this is ideal for all actions that you will need to carry out using this keyboard; be it gaming or typing.
This keyboard comes to you in a tournament-ready design. You have a keyless design with a removable USB cable that provides portability for gamers who love to play on the go. No inconveniences or time wastage is tolerated. 
A special favorite of ours is the lighting. It is immersive and can be customized to enhance your gaming experience in a way that is unique to just you.
The backlit keys are of Chroma RGB lighting and include 16.8 million colors. They sync with the gameplay and other Chroma enabled peripherals, and Philips HUE products. 
Now you can have all your keypress combinations remapped to carry out those complex tasks with the fully programmable macro support.
Apart from the fact that it is made to cater to your gaming and typing needs with a top of the art software programming, its ergonomics are such that you get unequaled comfort as you make use of it. The magnetic wrist rest made of leatherette gives you comfort as you use this keyboard over extended gaming sessions.
Click away without fear, because this durable design supports up to 80 million clicks so that you can game all day without fear of having to replace your keyboard soon.
Pros
Tactile feedback and quitter clicks

Keyless design and detachable USB cable
Customizable backlit keys
Macro support is programmable
Support for your wrists giving you comfort over long gaming periods
Cons
Not very compatible for use with a mac
8. Corsair KSS RGB Gaming Keyboard
Take your typing and gaming to the next level with this awesomely built keyboard for you.
Its three-zone backlighting and 10+ vivid RGB lighting allow you a number of choices between lighting effects for you, all to provide you with the best keyboard experience.
They are 6 programmable macro keys with adjustable height that enable you to carry out powerful actions and combos, providing you with endless possibilities and giving you so much more ease of control.
You can also easily control the volume with the dedicated multimedia keys, without having to interrupt the game.
The keys you have here are quiet, but very responsive and give you satisfaction with every keystroke.
Compatible with a lot of operating systems and USB ports ranging from windows 10, windows 8, and Windows 7 and also windows vista. USB types are USB 2.0 ports.
You do not have to worry about lost commands as the multi-key anti-ghosting feature ensures that all your entries are registered and executed accordingly.
Play all you want and for as long as you wish without fatigue or pain in the wrist because the design of this keyboard is to ensure you have comfort.
Pros
RGB lighting modes to allow for a better gaming experience

Programmable keys to enable you to quickly execute powerful actions

Dedicated multimedia keys to allow you control audio without game interruption

Compatible with windows

Comfortable wrist rest on the keyboard

Anti-ghosting to ensure accurate multiple key presses
Cons
Caps lock and num lock indicators stop working randomly and can be a problem when typing in passwords
Read more reviews on Amazon
9. Logitech Illuminated K740 Keyboard 
Best Quiet Wired Keyboard for Casual Gamer
The K740 wired keyboard has a lot in common with K800, including a similar typing experience, thin profile, laser-etched keys and backlit illumination.
It also features Logitech propriety PerfectStroke key system, which ensures a quieter and more comfortable typing experience.
The palm-rest is coated with rubber, which means better grip and a soft-to-touch surface.
Before buying the K800 wireless keyboard, I used K740 as my primary input device (it became unusable after kids pulled off some of its keys).
K740 offers a similar typing experience as K800 and the main difference between them is wireless connectivity and hand-proximity detection.
If you are not specifically looking for a wireless keyboard, K740 makes more sense as it's more affordable, slimmer and offers better response time (it's a wired keyboard so obviously the latency is low).
Pros
Affordable

Low-profile keys (less noise)

Perfectstroke Key system

Laser-etched keys

Ultra-slim profile

Full-size layout with shortcut keys

Customizable function keys
Cons
It's hard to put the keys back if kids pulls them off
Read more reviews on Amazon
Frequently Asked Questions
Who Needs a Silent Keyboard?
Loud keystrokes and clicks can be irritating and disturb people around you, especially in quiet environments such as libraries.
Although our own minds eventually get used to such sounds while we click and type, it bothers others when they are trying to focus on something.
A silent or quiet keyboard not only saves people around you from loud and annoying noises but also helps you concentrate and focus.
Quiet(er) keyboards are particularly useful in office environments, university dorms, libraries and of course the bedroom.
When I first started using a quieter keyboard, I wondered why I never thought of it before.
I had to compromise on some advanced features after switching from a regular keyboard to a quieter one, for me the pros easily outweighed the cons.
Silent keyboards make a lot of sense for frequent typists and people who spend most part of their days (or nights) working (or gaming) on a computer.
You definitely don't want to disturb and irritate others around you, especially in situations like when someone is trying to sleep or read. Read also: best silent mechanical keyboard [year] and best quiet ergonomic keyboard.

What Differentiates a Silent Keyboard from a Regular Keyboard?
It's hard to point out keyboards specifically labeled as silent, which makes it difficult to find a quieter one.
However, there are a few things that help filter out such keyboards. Most manufacturers mention the key-types such as Logitech that offers many keyboards with PerfectKeystroke system.
You might also come across some DIY solutions that claim to make a keyboard quieter such as dampening rings, but those solutions don't work for everyone.
In addition to the noise produced by your fingers slamming the keys, keycaps hitting the keyboard base also contribute to the overall loudness.
Keyboards with a cushion between keycaps and the base produce less sound, while low-profile keys produce less sound compared to high-profile and mechanical keys.
Wired vs. Wireless Keyboard – Which is Better?
There isn't a lot of difference between them when it comes to less noise. The main difference between the two is convenience and response rate.
Wired keyboards offer faster response time, but you have to deal with tangled wires, while wireless keyboards offer more convenience at the cost of slower response rates/low latency.
If gaming or other high-precision stuff is your thing, wired keyboards are a better solution as wireless keyboards are more suitable for general home users.

How Quiet Silent Keyboards Really Are?
No keyboard can be totally silent as there must be some sound produced by your fingers slamming the keys.
However, quieter keyboards minimize the noise by providing a cushion between the keys and keyboard base and evenly distributing the force across key surfaces. Although silent keyboards help eliminate most of the noise, none of them is totally silent in a literal sense.
The good news is that quiet keyboards are far less irritating as regular ones and are good enough for most situations when you don't want to disturb people around you.
Since it's hard to find scientific studies that help determine quietness of keyboards, we can only count on details provided by manufacturers and our own ears to 'hear' the difference.
Best Quiet Keyboard (Wired & Wireless) – Conclusion
With all these silent keyboards out there, it can be a bit complicated to select the right one but I'll make things easier for you.
If you're a hard-core gamer and want nothing but the best (and can pay the price!) then go for Razer Huntsman Elite. It's a wired gaming keyboard and offers better response time + it has many other fancy features primarily intended for gamers.
However, if you don't want to spend that much on a gaming keyboard then SteelSeries Apex M750 is the best value quiet keyboard. And if you're on a very tight budget and looking for something cheaper, go for the Redragon K502. 
If you're not a gamer and just want a quieter keyboard for home and office use, we recommend the highly rated Logitech K800 Keyboard. It's the quietest feature-packed keyboard on the market in [year].
If you're looking for something cheaper, go for Arteck.
So there you have it – the best quiet keyboard in [year] reviewed. Ciao!
Dave Pearson is a Canadian musician, sound editor, and audiophile. He is also the founder and owner of the website SoundProofGeek. On SoundProofGeek, Pearson offers advice and resources on audio equipment, including how to assess and improve audio quality, how to troubleshoot and repair audio equipment, and how to improve the music listening experience.