Surprisingly, many people have a hard time finding a silent keyboard (one that's labeled or advertised as a quiet keyboard). Loud and distracting sound produced by typing is equally annoying as clicks, especially in an office environment.
So why don't we see specialized 'silent' keyboards, which make more sense in environments where loud clicks and keystrokes are not appreciated? Finding a silent keyboard is more about choosing the lesser of two evils. That's mainly because most of the sound that comes from a keyboard is a result of our fingers slamming the keys (and not the keyboard itself).
No matter how silent a keyboard is rated to be, if you slam the keys hard enough, the resulting noise would be loud and distracting (it's different in case a click as it has its 'limits'). However, not all keyboards are created equal and some are designed better while keeping acoustics in mind. This guide aims to help readers find some of the best silent keyboards money can buy in 2019.
Do you already have a silent computer mouse? If not, you'll want o to check out my awesome article about best silent mice in 2019. You're welcome! Okay, enough mouse-talk now, let me show you now the quietest keyboards of this year.
Best Quiet and Silent Keyboards Reviews 2019
Let's have a look at the top three quiet keyboards that offer great value for the money.
Logitech K800 also happens to be the keyboard I have been using since quite some time. It's one of the most affordable, yet feature-packed wireless keyboards. Although it is not 'labeled' as a silent keyboard, it's quieter than most keyboards out there. Plus you also get features like hand proximity detection (backlight turns on automatically when your fingers are near the keyboard), thin profile, laser-etched backlit keys and a comfortable typing experience (thanks to the PerfectStroke key system).
It uses a Logitech Unifying receiver, which allows you to connect other Logitech devices (up to 6) using a single USB port. Add a Silent Plus mouse to the equation and you get a quieter and more comfortable typing and clicking experience. However, these wireless devices are targeted at general consumers and not meant for gaming purposes or stuff that requires precision and low latency.
PS: The keys are perfectly visible even when the backlit illumination level is set to minimum. Setting illumination to higher levels wastes a lot of battery juice and is not recommended unless you absolutely need to do so.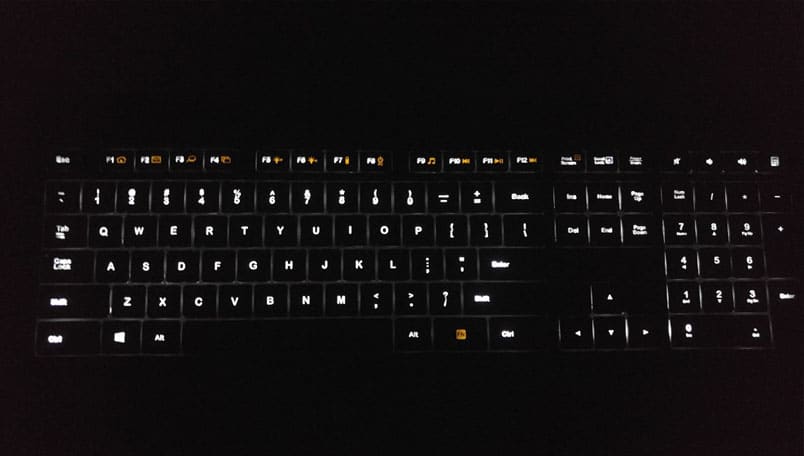 Pros
PerfectStroke Key System

Laser-etched backlit keys

Unified USB receiver, allows connecting up to 6 compatible Logitech devices

Fast recharging, decent battery timing

Plug-and-forget setup (need to pair devices only once)

Dedicated keys for calculator, mute and volume adjustment

Function keys (customizable)
Cons
Read more reviews on Amazon
The K740 wired keyboard has a lot in common with K800, including a similar typing experience, thin profile, laser-etched keys and backlit illumination. It also features Logitech propriety PerfectStroke key system, which ensures a quieter and more comfortable typing experience. The palm-rest is coated with rubber, which means better grip and a soft-to-touch surface.
Before buying the K800 wireless keyboard, I used K740 as my primary input device (it became unusable after kids pulled off some of its keys). K740 offers a similar typing experience as K800 and the main difference between them is wireless connectivity and hand-proximity detection. If you are not specifically looking for a wireless keyboard, K740 makes more sense as it's more affordable, slimmer and offers better response time (it's a wired keyboard so obviously the latency is low).
Pros
Affordable

Low-profile keys (less noise)

Perfectstroke Key system

Laser-etched keys

Ultra-slim profile

Full-size layout with shortcut keys

Customizable function keys
Cons
It's hard to put the keys back if kids pulls them off
Read more reviews on Amazon
The BlackWidow is a wired gaming keyboard that features award-winning Razer mechanical switches, which make it a quieter and responsive keyboard. Being a gaming keyboard, BlackWidow offers many customization options and features gamers crave, including fully-programmable keys, dynamic lighting (looks cool in the dark) and individual backlit keys.
Although it's a gaming keyboard, it also blends nicely into professional settings such as an office workstation. It's a great option for gamers and home users who prefer mechanical switches, want better tactile feedback and customization options.
Pros
Mechanical switches

Excellent tactile feedback

Individually backlit keys

Dynamic lighting effects

Audio (audio out, mic-in) and USB pass-through

On-the-fly macro recording

1000 Hz ultra-polling

Braided fiber cable

Durable (rated at 80 million keystrokes)
Cons
Read more reviews on Amazon
Frequently Asked Questions
Who Needs a Silent Keyboard?
Loud keystrokes and clicks can be irritating and disturb people around you, especially in quiet environments such as libraries. Although our own minds eventually get used to such sounds while we click and type, it bothers others when they are trying to focus on something.
A silent keyboard not only saves people around you from loud and annoying noises, but also helps you concentrate and focus. Quiet(er) keyboards are particularly useful in office environments, university dorms, libraries and of course the bedroom.
When I first started using a quieter keyboard, I wondered why I never thought of it before. I had to compromise on some advanced features after switching from a regular keyboard to a quieter one, for me the pros easily outweighed the cons.
Silent keyboards make a lot of sense for frequent typists and people who spend most part of their days (or nights) working (or gaming) on a computer. You definitely don't want to disturb and irritate others around you, especially in situations like when someone is trying to sleep or read.

What Differentiates a Silent Keyboard from a Regular Keyboard?
It's hard to point out keyboards specifically labeled as silent, which makes it difficult to find a quieter one. However, there are a few things that help filter out such keyboards. Most manufacturers mention the key-types such as Logitech that offers many keyboards with PerfectKeystroke system.
You might also come across some DIY solutions that claim to make a keyboard quieter such as dampening rings, but those solutions don't work for everyone. In addition to the noise produced by your fingers slamming the keys, keycaps hitting the keyboard base also contribute to the overall loudness. Keyboards with a cushion between keycaps and the base produce less sound, while low-profile keys produce less sound compared to high-profile and mechanical keys.
Wired vs. Wireless Keyboard – Which is Better?
There isn't a lot of difference between them when it comes to less noise. The main difference between the two is convenience and response rate. Wired keyboards offer faster response time, but you have to deal with tangled wires, while wireless keyboards offer more convenience at the cost of slower response rates/low latency. If gaming or other high-precision stuff is your thing, wired keyboards are a better solution as wireless keyboards are more suitable for general home users.

How Quiet Silent Keyboards Really Are?
No keyboard can be totally silent as there must be some sound produced by your fingers slamming the keys. However, quieter keyboards minimize the noise by providing a cushion between the keys and keyboard base and evenly distributing the force across key surfaces. Although silent keyboards help eliminate most of the noise, none of them is totally silent in a literal sense.
The good news is that quiet keyboards are far less irritating as regular ones and are good enough for most situations when you don't want to disturb people around you. Since it's hard to find scientific studies that help determine quietness of keyboards, we can only count on details provided by manufacturers and our own ears to 'hear' the difference.
Best Quiet Keyboards – Conclusion
Considering the price, key features and of course the 'quietness level', Logitech K800 makes a lot of sense.
The K800 Wireless Keyboard offers almost everything we have come to expect from a well-known brand (at an affordable price), including quieter and comfortable keystrokes, laser-etched backlit keys and hand-proximity detection.
K800 also helps you get rid of tangled wires and offers a decent battery life (if you leave the hand proximity feature on).
Although it works great for home and office users, Razer BlackWidow is a better choice for gamers. Being a wired gaming keyboard, BlackWidow offers better response time and other fancy features primarily intended for gamers.